Mistress Inka and Princess Bella are just back from a jaunt to The Netherlands, whilst they were there they indulged in plenty of cheese, wine and other local delicacy's, along with a side of sadomasochism.
The ladies enjoyed an evening at Mistress Manita's Showboat boat party, where they danced, drank and generally soaked up the debauchery and sin which was taking place! They then enjoyed the sights of Amsterdam, from the red light district and all of it's sexual energy to the quiet streets of Jordaan and it's quaint cafe culture, they perused the countless fetish shops and indulged in a little retail therapy, something much needed after dealing with the subs for a couple of days.
The trip was organised by the subs who were desperate to go on holiday with their glamorous Mistress, Mistress Inka, and her companion in evil, Princess Bella, although all did not go to plan!
The Mistresses were shocked to find out they would be staying on a house boat on the outskirts of Amsterdam, rather than in Amsterdam itself, and the subs had no real plan regarding transport other than Sub Alexia's statement that "10km's isn't very far to walk, only 20 minutes". The Mistresses saved the day by hiring a car and sorting out the problems at hand, and the subs, thanks to their colossal fuck up, earned themselves a harsh punishment, only 100 of the best from the correctional implement of choice from Scotland, the Tawse!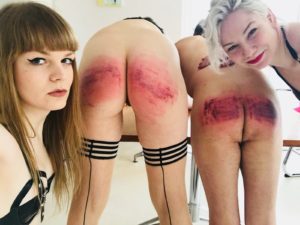 The subs thought they would get away with it, what with them being many hundreds of miles away from the Maison, but they were happy to find out that the Mistresses came prepared, Tawse for punishment, and two gags for peace and quiet!
The subs were hauled over the table, gagged, and stripped before being punished for their colossal fuckup, the geese outside had quite the view of their scrunched up faces of agony as the Mistresses de-stressed via harsh punishment, it's fair to say that the sub had red bottoms by the end of it, and the Mistresses had large smiles and a newfound sense of calm as they entered another day in the company of their snivelling and grovelling submissive companions.
The subs fucked off, and before long the Mistresses found themselves perusing the shelves of the fetish shops of Amsterdam! They delighted in purchasing new equipment and accoutrements for the Maison, knowing their purchases would be much hated by all the subs back home who would have to deal with being test bunnies!
They got a new latex hood and mask, clamps, a new gag, and a new swing to attach to their suspension frame! Mistress Inka remarked that it will be good for turning subs into helpless sluts who won't be able to keep themselves from being exposed!
All in all, the trip to Holland was a resounding success! And the Mistresses wish to stress that they are looking forward to future trips… they're taking applications from slaves who may wish to send them off on an adventure, Berlin and Paris are high up on the list…