Having managed to only fit in 25% of the punishment that she was due Alexia Gasp, we're delighted to be welcoming KinkyFetishViv back to the Maison this week to finish the job. She'll be arriving Tuesday 18th but will only be here until Friday so if you're looking to get one of those oh so precious session times best nip on.
We were delighted to have the opportunity to film several of the sessions with Viv and Mistress Inka last week. These are now available from Mistress Inka's Clips4Sale Store and we will be adding to this on a regular basis. As well as sub Alexia we're delighted to welcome back Miss Ivy from Spain. She will be with us for the foreseeable future and is available in both Dom and sub roles. She is also happy to double with Mistress Inka or any of the other Maison regulars. You can view Miss Ivy's profile HERE.
No sooner has Viv made her way back South and we shall be welcoming the stunning Mistress Elizabeth Swan visiting for a few days from London. She will be with us at the Maison next Tues and Wed, 22nd/23rd August. This is a rare visit from this experienced mistress and opportunities to session with her are also filling fast. You can contact her directly through her web site, link at the foot of this page.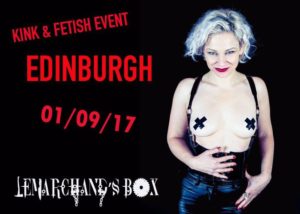 Currently taking a well earned vacation in Sweden Bristol-based Princess Bella will be visiting at the end of August, arriving on the 28th. She'll then be returning to her home base at the House Du Croix, Bristol on 4th September giving you just under a week to fit in a session with the lovely mistress before her departure. She is hoping to attend our kink party on 1st September during her stay.
The dungeon shall be hosting Lemarchands Box Party on the 1st September, Friday evening from 7pm. Tickets for this shall be available shortly and we expect a host of lovely mistresses to be on hand for what should be a most entertaining evening. More details to follow.
Web Links
https://twitter.com/kinkyfetishViv
http://www.elizabeth-swan.com/
https://twitter.com/PrincessBella_B