Formed from an exquisite cocktail of Polynesian/Asian, Spanish, and Black ancestry we welcome Mistress Charlyn.
A Lifestyle Dominatrix and model from southeast Asia, now based in Edinburgh, She has been practicing as a pro Mistress in the Asian BDSM scene for 13 years.
A fetish model, business consultant of birchplace.com, and Owner of satinpansy.com the Mistress enjoys meeting others who are also involved with the fashion industry. The Mistress has no preference who She dominates and considering those who wish to serve. Male or female - straight/bi, as well as gays/TS/sissies and couples all, are welcome.
A Domme of exquisite taste, fashion, and lifestyle, the financial Diva that you will only desire, the image you won't be able to forget, the voice that will only hear, and the woman you will beg to submit to.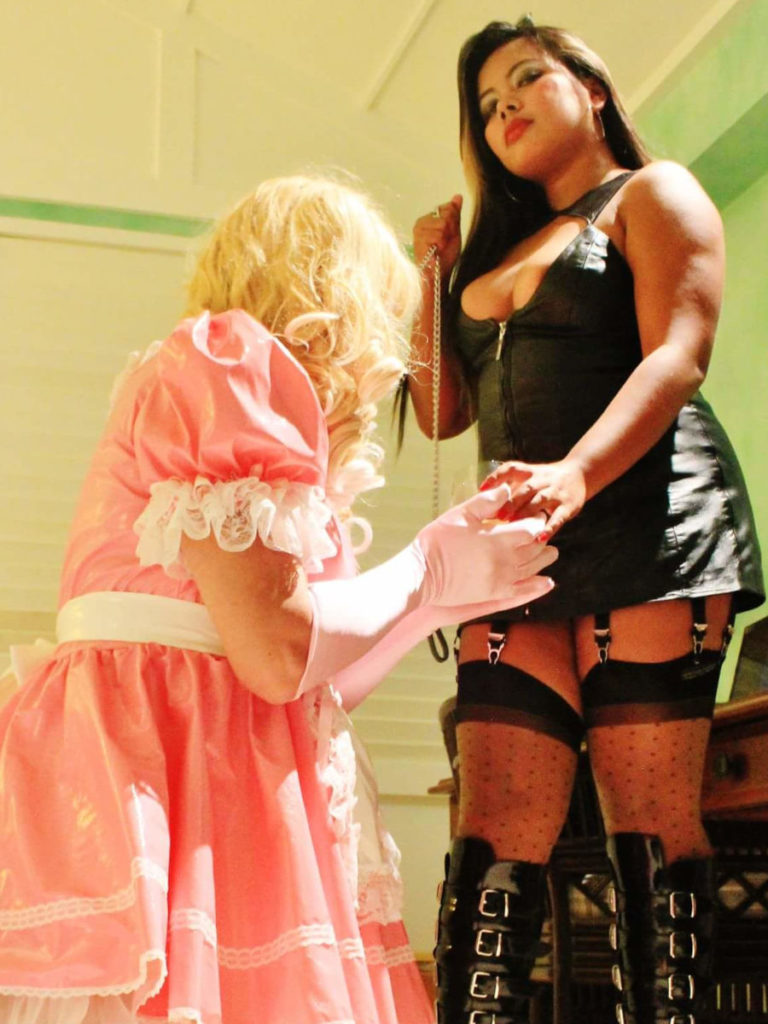 The Goddess who will make you into a sissy slut that will only want to be lovely, sexy, and slutty as She desires. Used as She wishes, degraded, humiliated, molded, crushed under Her boot and sucking the heel as She commands. The nanny who is the strictest kind who will show you how it feels to be one of Her nappied bitches as you sit in your diaper and beg for Her attention. The Dominatrix is the cruel Mistress that will take you into Her world of pain, seduction, enslavement, and pleasure.
If you come before Her for one reason it shall be your willingness to be enslaved. No matter if it is online or real-time. No matter if it is once a week, once a month, once a session, or every day of your life you will want to be enslaved.
The Goddess, the Mistress, and the Empress of your existence She expects to be pleased, always. Know the honor it is, know it every day, feel it every moment, and if you do and you obey, and sacrifice, and follow this Mistresses path you will gain so much more than you ever thought possible, and you will be truly possessed
You can contact Mistress Charlyn from the links below.
---
Web: mistresscharlyn.com
Twitter: @MistressCharlyn
Loyalfans: Mistress Charlyn
Wishtender: Mistress Charlyn
Email: charlyn.mizz@gmail.com
Phone: +44 7415733116
Updated: June 2023