Our residents, Mistress Inka and Princess Bella shall be making a weekend excursion to London shortly.
Unfortunately Miss Sugarcougar is unable to join them so is keen to express her disappointment on any willing subbies and sissies.
Our ladies shall be resident in the SW6 area of London Saturday and Sunday, 20th & 21st January.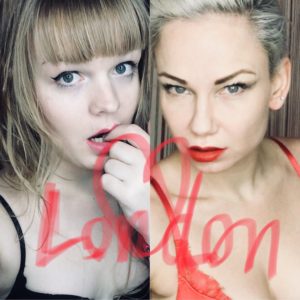 They are available for double-domme sessions only either in a domestic setting £200 1 hr or in a nearby dungeon £250 for 1hr.
You should contact the Mistresses directly from the links at the foot of this page.
No sooner have they returned from London and we are joined at the Maison by Vivienne Lamour and Mistress Celeste for a short visit to Edinburgh.
Follow the Maison on Twitter for updates and availability of all our resident mistresses as well as opportunities, usually limited, with visiting Mistresses from around the UK.
So while Mistress Inka and Princess Bella are teaching London how skilled and practised they are in BDSM arts Miss Sugarcougar is available at the Maison and has some frustration she wishes to vent.
Perhaps some adoration and foot worship might help.
Contact our Mistresses